We believe that financial education is a powerful tool for organizational success and social change. We aim to build collective confidence around financial decision-making rooted in the wisdom of participants.
"So helpful and practical. The workshop acknowledged the reality of how big these topics can seem but made each one approachable. Really clear and engaging-funny too! "– participant
"super fun and engaging…you've succeeded in leaving me wanting MORE! :)" -Julia
"…fantastic facilitators! The content was easy to understand and great for different learning styles." -Steph
Workshops
We facilitate customized financial education workshops for cooperatives, nonprofits, businesses, fellowship cohorts, organizing and capacity-building groups. We design our workshops to address the needs of each group we work with. Contact us to share your specific challenges and learning goals.
For past and upcoming public workshops, see our events page.
some example online workshops:
Lenders, Foundations, Grantmakers Supporting Cohorts
ABC regularly partners with lenders, foundations, and grantmakers to support cohorts of grantees and loan recipients. We typically offer a series of full group workshops followed up by 1:1 consulting for participants who would like additional direct technical assistance. Click here for more info.
Custom Workshops & Facilitation
Finance discussions can get complicated. Having facilitation support can help you move forward together with more ease and clarity. ABC can work with you to facilitate money-related sections of your meetings and retreats and bring grounding education and games as needed to engage everyone involved.
Annual Budgeting Process Facilitation: ABC can support your organization's budgeting process from start to finish so that your whole group can participate more fully. Sessions can include: Building Alignment on Definitions of Success, Generating Financial Priorities, Understanding My Organization's Finances, Collaborative Budgeting, and Scenarios planning for different future possibilities.
2023 Cosmos Pricing Guide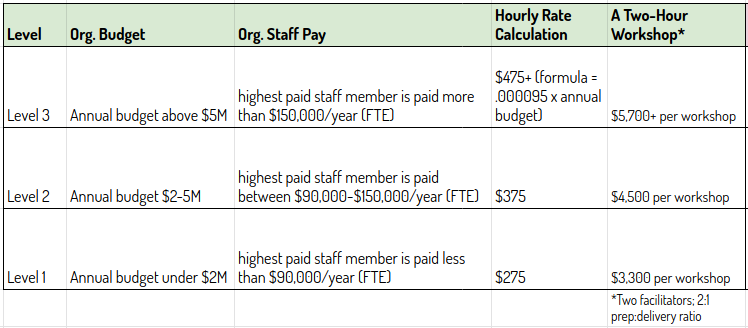 If you are a smaller group, consider sending your staff/members to our public workshops. Public iterations of our workshops have solidarity rate tickets available and happen multiple times throughout the year.
*ABC is operating 100% remotely for the duration of the Covid-19 crisis.
This means that:
ABC will not have any workers travel for work.
ABC will not hold any in-person internal or client meetings.
ABC will not plan any in-person workshops or trainings.
We will maintain this policy in alignment and solidarity with the Peoples' Strike Demand: "No return to work or end to physical distance until health experts determine it is safe."