How Can We Make More Money? A Values Based Finance & Budgeting Seminar
March 29, 30, 31
Sunset Park, Brooklyn
Join us for a seminar based on How Can We Make More Money? A Values-Based Finance Education Kit, a collaborative project of Open Bookkeeping, A Bookkeeping Cooperative, Toolbox for Education & Social Action, Fortify Community Health, and the Anti-Oppression Resource Training Alliance.  Build skills to strengthen your organization's approach to finances and budgeting for social change.
Topics will include:
The basics of budgeting: why, how, reading, adjusting, and using
Finance and money concepts and terms: developing shared language and understanding
Defining collective success
Prioritizing competing needs and areas for growth
Tools for facilitating deeper and more democratic group engagement in finance conversations
Integrating organizational values into financial decisions and processes
Going beyond spreadsheets to make financial reporting and conversations more accessible
Discussing larger systemic injustice and its impact on individual and organizational finances
Understand basic cash flow projections and other important financial reports
This seminar is designed for people at all levels.  If you are a worker-owner, an educator, a cooperative developer, a community leader, or a board member of a group-oriented organization, this seminar is for you!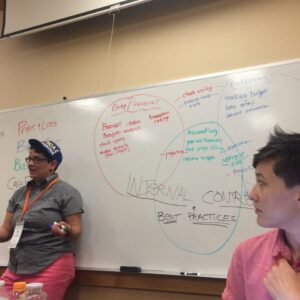 Facilitators:
Annie Sullivan-Chin, A Bookkeeping Cooperative
Annie Sullivan-Chin is a worker-owner at A Bookkeeping Cooperative, a 100% employee-owned cooperative business based in New York City. She developed her accounting expertise in the classroom at Baruch College in NYC as well as on the job at ABC over the last five years. She is also an experienced facilitator and trainer, with a passion for building capacity in the solidarity economy movement through financial literacy and the empowerment of workers everywhere.
Alex Fischer, Open Bookkeeping
Alex Fischer brings a strong commitment to racial, economic and gender justice to their finance work. With over a decade of financial consulting and bookkeeping experience, Alex founded Open Bookkeeping, based in Brattleboro, VT, to bring a justice perspective to bookkeeping & organizational finance management. They believe that financial literacy is critical to empowering leadership and creating truly democratic organizations that can harness the genius of all its members, especially those from frontline communities. With a passion for engaging and interactive facilitation, they are known for creating fun financial workshops. Alex is a self-taught bookkeeper and holds an MBA in Managing for Sustainability from Marlboro Graduate School.
Schedule:
The seminar begins with dinner and opening at 6pm on Friday March 29th and runs until 6pm on Sunday March 31st.
Day One: Friday 6pm start and end between 9 & 10 pm (dinner provided)
Day Two: Saturday 10am-6pm (lunch provided)
Day Three: Sunday 10am-6pm (lunch provided)
There will be breaks scheduled throughout and participants are encouraged to do what they need in order to participate fully.  Because this seminar is cumulative, there is no partial attendance.
Fee
The registration fee includes over 17 hours of training and meals during workshop hours.

To support scholarships for the seminar, we invite applicants able to do so to pledge a higher registration fee.
-$1,200 (support scholarships)
-$800 (support scholarships)
-$600 (real cost)
-$0-600 (apply for a scholarship)
Application Deadline:  Sunday March 3rd.  Past this date, we are accepting applications for the wait list.

Registration does not include travel or lodging.
Fill out an application form here.
After applications are received, we will let applicants know if they are confirmed and will send payment details and address.
We're committed to accepting a diverse group and to supporting people with less access to resources to attend.
If you don´t plan to attend, but still wish to make a donation to support the Kit and scholarships for this seminar, please donate here.  Thank you for supporting financial literacy and movement capacity building!
We are currently scheduling seminars for 2019. If you are interested in hosting or attending in a different location, please reach out!
<info@bookkeeping.coop>